Outdoor Soccer
Get back in the game after a break with our casual outdoor soccer league. We play 6 v. 6 on half fields with practice nets and no goalie.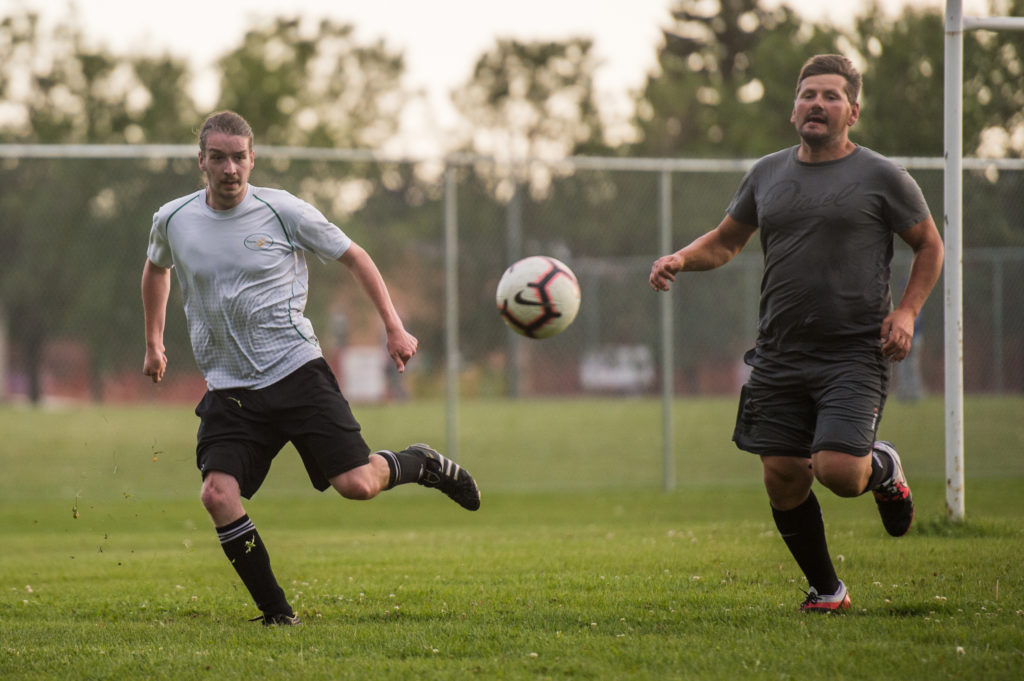 Sign the waiver to join your team
All players must sign the waiver in order to play. The league coordinator will be taking roll call before each game.
Staying healthy with the COVID-19 guidelines
We're following the guidelines provided by the government under its Re-open Saskatchewan Plan closely. The guidelines are subject to change.
Under the most recent guidelines, outdoor sports leagues are no longer required to play in mini-leagues, but there are still other health and safety measures in place.
You can see the measures we'll be following in our COVID-19 Plan.
Captains must share this plan with their players, and all players must obey measures put in place by facilities and directions from Play Sask staff.
Frequently asked
What is the level of play? What if I'm a beginner?

For our casual soccer league, all levels of play are welcome, especially beginners! Advanced players are also welcome, just make sure you keep it light. Our Competitive soccer league is only for experienced players who want to take the game to the next level.
What prizes do we get if we win?

The winning team gets a Play Sask champions T-shirt that changes every season! And we believe in spreading the love with prizes — we're also lining up swag for best spirit. Plus, keep an eye out for random giveaways throughout the season.
I have a few friends who want to play, but not enough to make a team. Can we still play?

Yes! Each of you should register as a single, and let us know in the comments that you'd like to stick with particular players. We'll do our best to keep you together, and we'll give you the option to take a refund if we have to split you up.
What if the weather's too bad to play?

Outdoor leagues run rain or shine unless there is standing water, or lightning and thunder. Play Sask will inform captains of cancellations due to extreme weather two hours before the start of the first game. See the rest of our rain out policy in our policies and procedures.