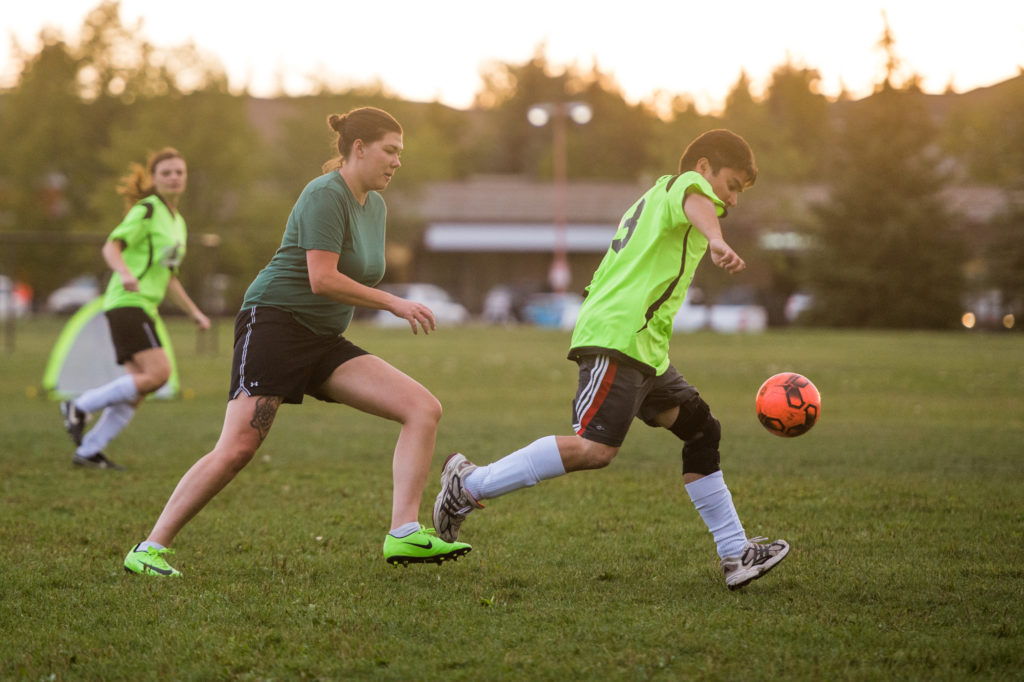 *Updated July 27 to reflect the most recent version of the reopen Saskatchewan plan.
Phase 4, Part 1 of the reopen Saskatchewan plan kicked off June 22, and Play Sask is offering outdoor soccer and beach dodgeball in July and August!
See our Outdoor Soccer and Beach Dodgeball pages for more information about each sport.
In order to comply with the COVID-19 guidelines this season, teams will be placed in a pool of up to 5 teams with a maximum of 10 players allowed per team.
Under the guidelines, people are allowed to play in mini-leagues with a cohort of up to 50 people as long as each event remains under the 30-person limit allowed for outdoor gatherings.
No subs will be allowed outside of your 10-player roster, and we are not offering single-player registration this season. Spectators are not allowed at games.
Because this is a scrimmage season, we won't be awarding prizes, though we'll still be keeping score and you'll have the bragging rights about being the top team in your pool.
We're also implementing a COVID-19 plan to help keep our players safe. If you have any questions about this plan, please get in touch.
Play Sask Sports COVID-19 Plan
Captains must share this COVID-19 plan with their teammates. Players must follow any guidelines in place from the establishment where games are being held.
Maintain physical distancing:
Games will be limited to a maximum of 30 people.
On the bench and when visiting before, during and after games, players must maintain physical distancing with a minimum of two metres of space between individuals.
At soccer games, staff will place pylons at two-metre intervals along the sidelines as a visual marker for the distance people should keep.
Games will be 40 minutes in length with 20 minutes between games to promote physical distancing between teams and to give staff and teams time to disinfect equipment.
Staff will discourage people from gathering.
Chewing tobacco, sunflower seeds, spitting, sharing beverage containers and other similar behaviours are not permitted.
Sanitize equipment and wash hands frequently:
Teams will be given their own equipment for the season, which must be disinfected before and after each game. Play Sask staff will provide disinfectant.
Players should wash or sanitize their hands before the game, on breaks, at half-time, and after the game.
Play Sask staff will provide hand sanitizer.
No handshakes, high fives or after-game cheers:
Congratulatory gestures, such as high fives and handshakes, are not permitted.
Try to minimize cheering and whistling as much as possible.
No spectators are allowed at games.
Do not play if you are feeling unwell:
Players who are sick or symptomatic must not participate. If a player is sick or symptomatic, they should use the Government of Saskatchewan's online self-assessment tool to help determine if the illness may be COVID-19.
If a person becomes sick during a game, they should immediately stop participating and
return home.